Fast Facts About Ambulatory Surgical Centers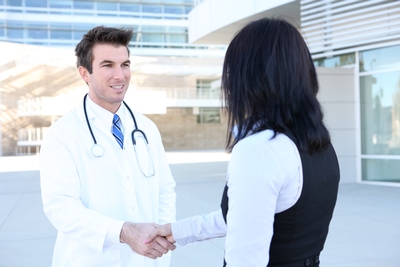 Specialty Surgical Center stands out from other surgery centers in New Jersey because we are an ambulatory surgical center. We believe that doing so provides countless benefits to the surgeon and most importantly, the patient. We explain exactly what we mean in this guide to ambulatory surgical centers.
Words to Know:
Outpatient – Patients who receive care without having to spend the night at a hospital.
Ambulatory Surgical Center – A state-of-the-art facility that is certified and licensed to meet or exceed state standards of a regular hospital. These centers often host physicians who specialize in particular fields. They are similar to hospitals, but patients are not allowed to stay overnight at the facility.
Minimally invasive – A technique that only uses small incisions to accomplish its goal. It's typically associated with shorter healing time.
Outpatient surgery is what helps us keep our price so low. In fact, our prices have not risen in three years. This is because in a traditional hospital setting, patients may need to stay at a hospital a day or two in advance as they wait for their scheduled surgery. However, Specialty Surgical Center performs the surgery the same day.
On top of pricing, we've found that patients may prefer an ambulatory surgical care because of the after care. While we do have a recovery room, patients are able to leave the same day and recover in the comfort of their homes.
Using minimally invasive techniques with most of our procedures can be equally, if not more effective than traditional surgery. This means that the patient can heal quicker because the incision is smaller and there is lower risk of infection or surgical complication using this technique.
Four Fast Facts:
Ambulatory Surgical Centers (ASC's) were invented after physicians were frustrated by scheduling delays, lengthy recovery times, and limited space in the operating rooms of hospitals.
Orthopedics and pain management are among the top specialized procedures, and Specialty Surgical Center does both.
ASC's are usually covered by insurance.
ASC's are associated with a shorter wait. While in a hospital, patients may need to wait weeks for an appointment while Specialty Surgical Center guarantees patients will be seen within two business days on their first visit.
Specialty Surgical Center is located in Sparta, New Jersey and our staff consists of board certified surgeons and anesthesiologists performing procedures in Orthopedics, Sports Medicine, Spinal Care, Podiatry, Urology, Pain Management, ENT, Hand Surgery, Lithotripsy, Brachytherapy, GYN and Laser Surgery.
For more information about Specialty Surgical Center, call 973-940-3166 or visit our Contact Page.