Skin Care Before and After Surgery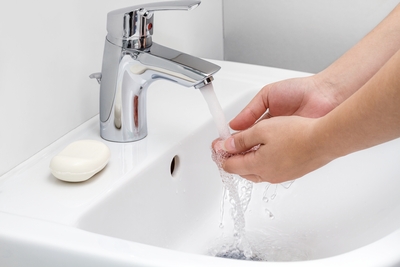 Skin is a vital buffer that keeps out harmful bacteria. When incisions are made for surgery, the infection-causing bacteria have a pathway into the body, which can lead to infection. Bacteria can also be introduced to the body from the surgeon's hand or if it was already living on the skin. In order to prevent infection, Specialty Surgical Center uses top of the line safety protocols to ensure a clean environment for the patient. Our team of surgeons does this by using clean equipment and wearing a clean mask, gloves, and scrubs, but we also do this through skin care.
Prior to the surgery, the patient's skin is thoroughly cleansed using disposable cloths containing 2% chlorhexidine gluconate (CHG) antiseptic solution. However, proper surgical skin care begins before that!
Patients should come in to Specialty Surgical Center bathed and dried unless otherwise instructed by the pre-op nurse. During their shower before the procedure, the patient should wash the surgical area with soap and rinse fully. Typically patients are instructed to stop shaving their bodies about two days before surgery. Patients should not use lotions, makeup, or perfume before coming in for surgery. This is because such products could reduce the effectiveness of the CHG antiseptic solution. Depending on the patient and the type of procedure they need, special cases may be made to allow patients to shave and use a medicated lotion, but the decision is up to the patient's surgical team.
Following the procedure, patients need to pay special attention to the way they treat their skin. Hands should be thoroughly washed before touching the wound each and every time, so new bacteria doesn't cause an infection. However, it's not just the hands that need to stay clean. Patients should always keep the incision site clean as well. This means carefully changing the bandages if the area gets dirty and gently washing the area in the shower. Patients should not take a bath or otherwise submerge the wound in the weeks following the surgery.
Cleanliness is not the only way patients can help their skin after surgery. Our physicians recommend using lip balm if the lips become dry after the procedure. This can especially be true of patients who had a tonsillectomy, tracheotomy, or any other procedure that required the mouth to be open for long periods of time. Finally, we recommend drinking plenty of water after leaving Specialty Surgical Center. Water helps revitalize the skin and helps it repair any dryness or damage.
Specialty Surgical Center is located in Sparta, New Jersey and our staff consists of board certified surgeons and anesthesiologists performing procedures in Orthopedics, Sports Medicine, Spinal Care, Podiatry, Urology, Pain Management, ENT, Hand Surgery, Lithotripsy, Brachytherapy, GYN and Laser Surgery.
For more information about Specialty Surgical Center, call 973-940-3166 or visit our Contact Page.