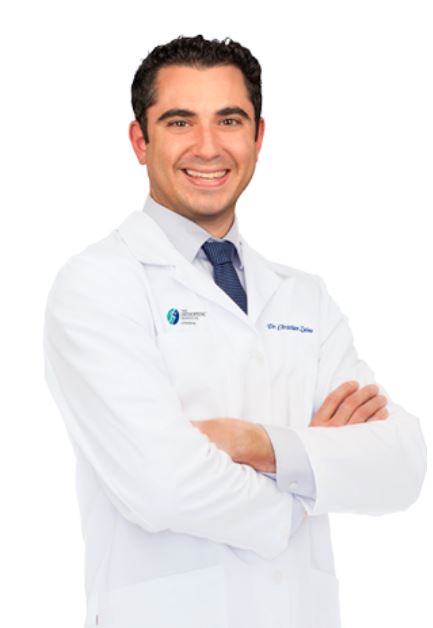 Specialty:
Orthopedic Surgery
Hand Surgery
Address:
95 Madison Avenue
Suite 101
Morristown, NJ 07960
711 Route 10
Suite 100
Randolph, NJ 07869
Christian J. Zaino, MD is a fellowship-trained Orthopedic Surgeon with sub-specialized training in hand, upper extremity, and microscopic surgery. He treats both children and adults with any orthopedic injury or ailment of the arm.
Dr. Zaino is board-certified in Orthopedic Surgery and holds a Subspecialty Certificate in Orthopaedic Surgery of the Hand through the American Board of Orthopaedic Surgery. He is a member of the American Academy of Orthopaedic Surgeons, American Society for Surgery of the Hand, as well as the American Association of Hand Surgery.
Dr. Zaino completed a formal fellowship in hand, upper extremity, and microscopic surgery at the University of Chicago. He also received training in congenital hand surgery at the National Children's Hospital of Lima, Peru, and microscopic surgery at the Mayo Clinic of Rochester, Minnesota. Most recently, he completed a traveling fellowship in complex wrist arthroscopy and reconstruction at the Hand Institute of Auckland, New Zealand.
While in Orthopedic Residency at SUNY Downstate / Kings County Hospital in Brooklyn, NY, he was chief resident and team physician for two Brooklyn high school football teams – one was his Alma Mater. He completed his surgical internship at New York University Medical Center / Bellevue Hospital in New York. Dr. Zaino also has numerous first-author publications and has given several national and international presentations.
In medical school at New York University, Dr. Zaino was elected class president four times and gave the commencement valediction as well. For college, Dr. Zaino also graduated from New York University with Magna Cum Laude and Departmental Honors in Architectural History and Urban Planning. He also studied abroad in London, England.
In his free time, Dr. Zaino enjoys art, off-road driving, snorkeling, traveling, and building sand sculptures with his wife, Joanna, on Long Beach Island, NJ.